There are few sports more Dutch than korfball. Invented by a Dutchman, practiced by many Dutchmen and international tournaments are always won by the Netherlands. At the World Games in Birmingham, Alabama (won by the Netherlands), the many American spectators are amazed. How does the average American experience the traditional Dutch korfball?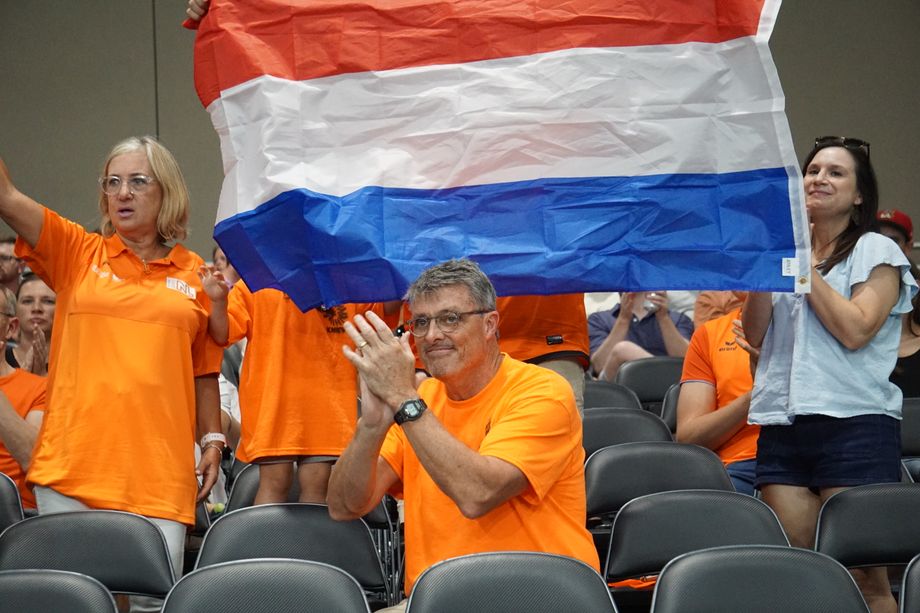 "You can't dribble or run with the ball," says Tyler, who owns the Innova coffee shop just outside of Birmingham. His wife Ann adds. "And you only get one point if you score in the… you call that a basket? Or korf?! No, of course: korf.' The knowledge of korfball among the unsuspecting American supporter is not very great. An association with that other, much more popular sport with a basket is quickly made: basketball.
Player Anouk Haars of the Dutch korfball team uses the same analogy when sitting in a taxi in Birmingham. "Then the driver says, 'Korball? What is korfball?' Then we explain that it is indeed baketball, but without the back board. I sometimes mention netball and then most people get it. But that men and women play together in a team and that we play 360 degrees around the basket is still quite complicated for many."
"Cheeks" Frederick
The Birmingham Jefferson Convention Complex is surprisingly often full during the korfball tournament matches. The sport seems to be popular. This is not surprising for some fans. They were part of Team USA in the late 1970s and 1980s, the years when it competed in World Championships and World Games. "We were the upset of the World Games in 1985. We won bronze then," memorizes Chris 'Cheeks' Frederick. "We were a bunch of converted basketball players. We knew we weren't allowed to move with the ball, but it was hard not to dribble. And that tall basket?! That was a real challenge for us."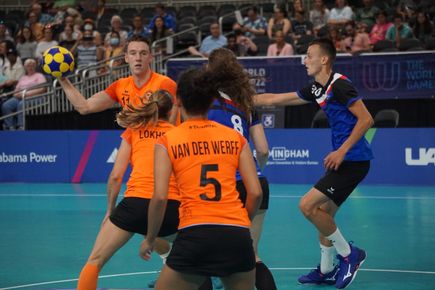 The team from that era experiences the World Games of today as a small reunion. They receive an official reception on the day of the semi-finals, reminisce and love that 'their' sport can be seen in Birmingham. "We had a few clubs at that time. From the universities. In Tulsa, Oklahoma, in Houston, Texas," says Becky Sjoberg-Shields. "But when our generation stopped, the whole korfball in the United States faded away." Too bad, the two think. "This is a sport that would fit perfectly in college and high schools. It's fast, men and women together. And we Americans have a lot of good athletes. We could be really good at korfball," Cheeks says.
Sleeping federation
But it is unlikely that there will be a new revival of korfball in the United States. "There is an American federation, but that is a sleeping federation," says Jan Sjouke van den Bos, delegation leader of the entire Team NL at the current World Games and former korfball coach of the Netherlands. "No, I don't think we get a lot of korfball players here in America. But there are more and more people who say: 'Wow, that's nice, we have to persevere.' That gives you hope and then we'll see if it works out."
To strengthen that hope, the Dutch squad gave a clinic at the beginning of the tournament in Ramsay Highschool in Alabama. "Very cool to do and to see that there is quite a bit of enthusiasm," says international Haars. "We just played games for everyone who wanted to participate. All ages. We even got the old concierge with us!"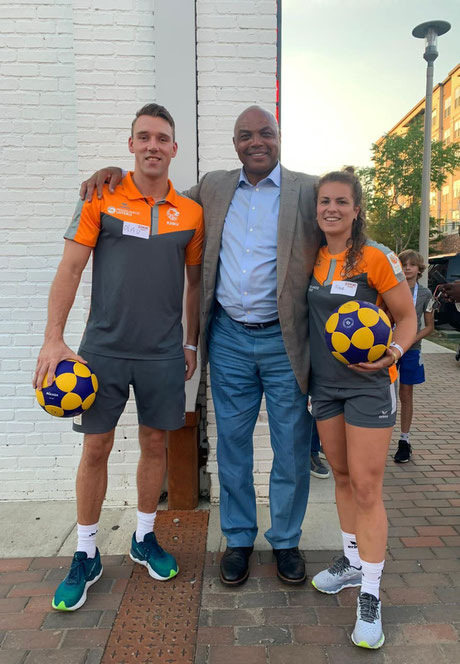 Charles Barkley
And to conclude with the comparison with basketball. Fleur Hoek and Olav van Wijngaarden, players of the Dutch National Team, had the chance to meet NBA basketball legend Charles Barkley, child of Alabama, Auburn college player and two-time Olympic gold winner with the United States Dream Team. "When I heard that Fleur was allowed to go there, I started nagging a bit whether I couldn't come too," says Van Wijngaarden. "I'm a huge basketball fan, I've been to the NBA playoffs a few times, so I'm glad they were able to sort that out."
It was a meeting set up by the International Korfball Federation (IKF). Pole, basket and balls went along to the agreed location to get Barkley to throw a ball. Van Wijngaarden: "He said he had problems with his shoulder, but he still shot three balls. One of them went in. And he's quite small for the rebounder he was, I'm not that much shorter in length. But it was really cool. For example, I don't have to take a picture with Dirk Kuijt or Robin van Persie, for whom I also have a lot of respect, but this was an exception."