Probably you all (y'all) think the Americans don't know anything about the typical Dutch sport korfball. And you're right, they don't. Most of them. But there is one exception: the group that played korfball during the late seventies and the eighties. Team USA participated at world championships and was the revelation of the World Games in 1985. They upset the international world of korfball (which by then was basically just The Netherlands and Belgium) and won the bronze medal.
Chris 'Cheeks' Frederick was a member of the team who competed at that World Games. "Most of us were converted basketball players. We knew the idea of man to man defense, we knew the idea of moving without the ball, but not being able to dribble was tough and then off course shooting on the eleven and a half foot basket; that was a challenge for us." USA surprised England and West-Germany at a penalty shoot-out for the bronze. "I remember I took the first one and put the pressure on the other teams."
In the Netherlands korfball is played in the typical clubs structure of the country. A structure that is not known in the United States. Cheeks: "Korfball was played in colleges. In Tulsa, Oklahoma and Houston, Texas and Oregon State, they had korfball clubs. It started to die out when our generation started to age out, so we're hoping younger people picking it up again, because it's a great co-ed  sport. We have the athletes to  be good at korfball."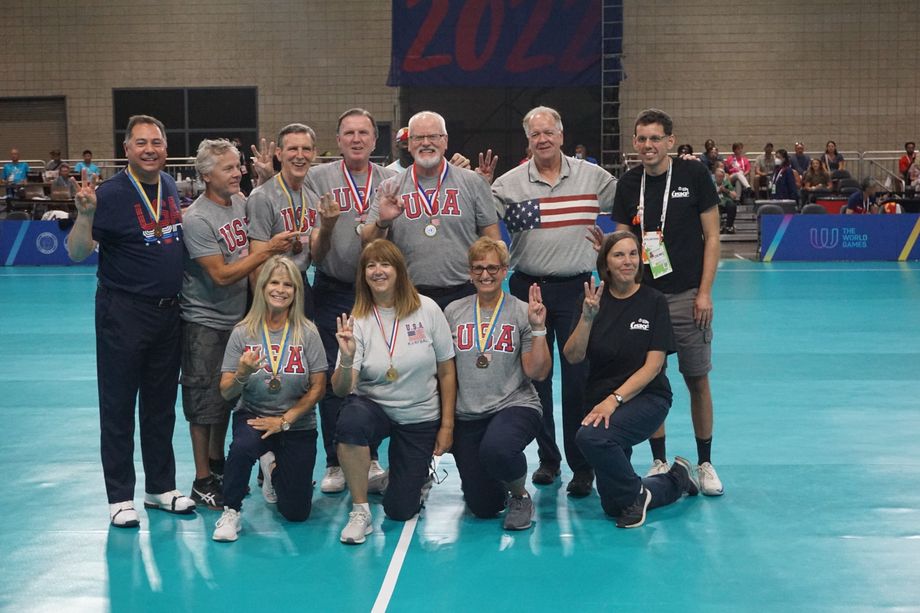 Back in 1985 Cheeks Frederick was chosen in the all star team by the IKF. An election he is proud of. "I take that as a very high honour", he says with a big smile on his face. "Hey, it really happened, it's in print, it's not something someone made up, so I'm very grateful for that." The group of korfball players from 40 years ago is invited at the day of the semi-finals at the World Games in Birmingham. It's a little reunion and there is an official moment at the Birmingham Jefferson Convention Center. "We got a beautiful certificate, a recognition of achievements given by the IKF of us winning the bronze medal back in the days. We are really thankful the federation looks after older athletes like us."