Dutch mushers Anita van Steijn and Roderick Glastra exchange the Dutch mud in winter for a thick layer of snow. Together with their nineteen husky's, they form Team Canis Polaris and they participate this weekend in the World Sled Dog Racing World Championships in Östersund, Sweden.
Howling, barking, jumping. Jon BonJovi (Jovi), Jennifer Lopez (JLo), Quincy, Jewel, Konan and Extasy are eager to race and it can be heard at the Biathlon Arena in Östersund. They are the dogs of Anita van Steijn, who is preparing to start from the stadium that is the scene of the World Cup sled dog riding this weekend. The deafening sound of enthusiasm is quite normal in the world of sled dog sport. It lasts until the start. From there, Van Steijn's voice must prevail, because that voice, in combination with the dogs' intuition, is the steering wheel.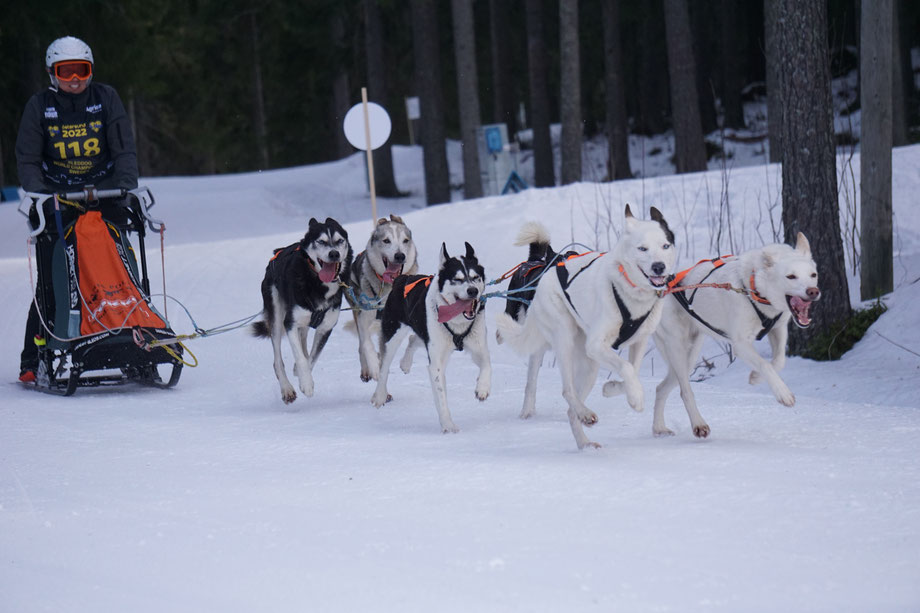 Anita van Steijn (39) and Roderick Glastra (50) have been away from home for a few weeks with their nineteen huskies. Home is Numansdorp, but in the winter season they are rarely found there. Then they look for snow for a large part of the season, which runs from the beginning of October to the end of March. "We train in the Dutch mud, but it's great to go to the snow with our dogs," says Glastra.
And that is quite an undertaking with nineteen dogs. The huskies, with their distinctive, rare eyes, are housed in a large bus, in which the dogs' kennels are built. They are quietly waiting in their loft until it is dinner time, competition time or time for a sanitary stop. Last week Team Canis Polaris settled in Hamar, Norway, where the Open World Cup was held. "There are also teams with bred hounds. That's like the Formula 1 of the dogs. We walk with purebred dogs," says Van Steijn.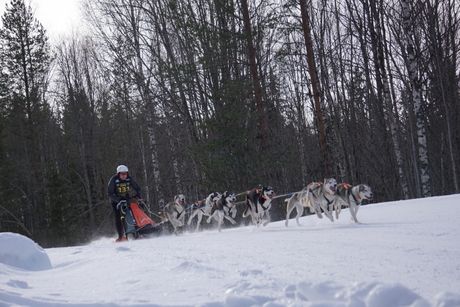 Dangerous
The trail in Sweden is unknown territory for the mushers. It creates uncertainty. "We heard stories that it would be a tough and dangerous trail," she says. "Ascending and descending and lots of turns. This course is different from many competitions because it is made for cross-country skiing." All horror stories turned out to be exaggerated, both mushers get through the first of three competition days very well.
Glastra has been involved in sled dog sport for over 25 years and was already world champion in 2009. Van Steijn rolled into it five years ago when they got to know each other. The two will do anything for their dogs: it's not a sport or a hobby, it's a lifestyle. "We have a house outside, a garden, a bus, a caravan. All the time, energy and money goes to our sweet dogs."
Four days a week they can be found in the woods before eight o'clock. Van Steijn: "We have got regular jobs next to it and we don't want to take time off for our training sessions, because we use our vacation days to the snow to participate in competitions."
Haw, Gee
Unlike, for example, driving horses, the dogs are not controlled by reins. The huskies are of course tied up and lined up two by two on a rope, the musher is standing behind it on a sled. The dogs determine the pace themselves and naturally want to follow the trail as quickly as possible. The first two (Jovi and JLo) are controlled by an international voice command - Haw is left, Gee is right - and are the fastest, the two in the back are the strongest.
The musher brakes by placing his foot on the snow or on a mat that can be folded down during the race. Glastra: "It is important to dose the pace properly. I can go above 30 kilometers per hour in the beginning, but then I lose time later. It's not a 100m sprint. I also want to be careful with my dogs." Van Steijn competes in the class with six dogs and runs a course of 12.4 kilometers, Glastra does 13.6 kilometers with eight dogs. "If they don't listen, they sit down and it's done," Glastra says.
Young Quincy (3 years old) decides to make an extensive sanitary stop in her first race, resulting in loss of time and stress. Tomorrow she will definitely be excited to leave again. Howling, barking, jumping. On to the next race.