It's the Vasaloppet's birthday. The largest and probably best-known cross-country race in the world is 100 years old. The party week in Sweden will be concluded on Sunday 6 March with a jubilee race. Women have only officially been allowed to participate since 1981. A year after a Dutch skier managed to reach the finish in Mora. Dressed up as a man. With a fake mustache. This is the story of the last forbidden female of Vasaloppet.
When she crosses the finishing line, she takes off her woolen hat. Her long red hair comes out. After 90 kilometers of skiing, she smiles with a big smile as she removes her red mustache from her upper lip. It's a fake mustache, bought in party supply store Fa. Koenot in Alkmaar. Sticked on to disguise herself as a man, because women are not allowed to participate in the Vasaloppet. It is 1980 and number 11,037 has finished. The organization marks the name Dos Winkel, a man. But Dos Winkel is actually called Mareike Bestenbreur and turns out to be a woman. The check mark is crossed out again.
She passed 7,000 men, out of approximately 12,000 participants. An unprecedented achievement, which causes consternation at the finish. How is it possible that someone from the Netherlands – land of skaters and frozen water, not skiers and a thick layer of snow – sparks the discussion about women's participation in Sweden's most popular ski competition? Because that is exactly what Bestenbreur does. "Immediately they shouted that I had to be disqualified and that from now on a sex test had to be done," says the now 73-year-old still active ultra-athlete. "I had a big smile on my face. Of course I knew I could do this. I had succeeded in part one of my mission. Part two was to increase the pressure with the help of the press and friends from Norway in particular to officially admit women to join the Vasaloppet."
Feminist sports nomad
Bestenbreur is an adventurous, feminist sports nomad. She is in search of major sporting challenges, where she stubbornly takes on herself and the inequality between men and women in sport. At the end of the sixties she broke through as a canoeist. She wins national titles in the juniors and seniors. She has since completed countless long-distance runs, urban trails and roller ski competitions. In the early eighties she became Dutch champion roller skiing and cross-country skiing.
She is following her own path independently of the Dutch Ski Association. At her own expense, with her own determination and with her own dreams, she joins the Søre Åle ski club in Lillehammer. There she hears from the men at her association about the Vasaloppet, a challenging cross-country race over 90 kilometers. "I wanted to participate in that race and asked those men where I had to register, but I was a bit laughed at," Bestenbreur remembers. "Not because they thought I couldn't do it, my teammates knew I wouldn't have a problem with it, but for a different reason. "Don't you know that race is forbidden for women?" they said. That triggered me for doing it." The sporting challenge mingles with the feminist fire: the iconic Vasaloppet must be conquered by her.
King Vasa I
The Vasaloppet is now famous in Sweden and far beyond, a mass event for cross-country skiers all over the world. And an event with a heroic story about the origin of Sweden. Legend has it that the nobleman Gustav Eriksson, a member of the influential Vasa family, fled on skis from the Danish overlords in Sweden in 1520. On his way to Norway, he tried to get allies to hatch a plan to take on the Danes, but time and again he failed. Until about 30 kilometers before the border in Sälen he learned that he had enough support to unleash a revolt against the Danes. Gustav returned to Mora: a grueling journey on skis. The battle eventually led to the Danish king being defeated. Gustav Eriksson became King Vasa I and laid the foundation for the Swedish state.
An epic story, which has become a national heritage, and has been honored with a sports competition since 1922: the Vasaloppet, a ski tour between Sälen and Mora, the King's route. Female participation in the ski tour is initially no problem. In 1923, Margit Nordin, a physiotherapist from Karlstad, joins the race. Three times a week she makes her rounds on skis through the forests around the large Lake Väner to see her patients. Often about 15 kilometers back and forth.
Nordin signs up for the Vasaloppet, a then young cross-country race that had its first edition a year earlier. She finishes in 10 hours and 9 minutes. Commotion follows on her finishing, knows Birger Fält, a 53-year-old skier and runner and connaisseur of the Vasaloppet history. "Nordin was encouraged by bystanders and was not exhausted when she finished, but the organization and the journalists were upset. It should not be possible that women participate in this competition, right? That was the thought at the time, but there was no rule yet forbidding women to participate. They came up with that rule eight days after Margit Nordin's finish." And it lasted until 1980.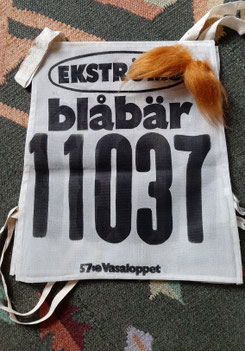 Bib number
After the announcement from the men of her ski club, Bestenbreur devises a cunning plan. It's time for action. "Through a sports friend I knew that the physiotherapist of the Dutch Ski Association, a man named Dos Winkel, had a bib number for the Vasaloppet, but that he could not participate. We agreed that friend would arrange that number for me without telling him it was meant to be for a woman." Bestenbreur informs few people about her action. A red sticky mustache and a woolen hat serve as a simple yet effective cover-up. Everything is going according to plan, until she approaches the start. "I had to take off my gloves, exposing my somewhat small hands. I looked down a bit, grunted in a low voice, gave a wink and continued to the start. I don't think they suspected anything, but it was an exciting moment."
Birgitta Westhed
Of course Bestenbreur is not the first woman in the years between 1923 and 1980 who came up with the idea of a disguise to participate in the Vasaloppet. For example, there were women without starting numbers who got out of the race 500 meters before the finish, Birger Fält says. "The best-known example is the girlfriends Birgitta Westhed and Britt Dohsé in 1978. Dressed with fake mustaches and beards, they leave between the men from Sälen. During the race, Westhed is interviewed. Rumors had been going around all day that women were taking part and that a journalist had discovered them."
At the next stop, Westhed is not allowed to continue, it is not clear whether this has to do with the fact that she is a woman or that she is too late at the stopover, after which participants are not allowed to continue skiing. Her friend maneged to reach the finish. "But the organization was angry and did not give her a diploma. Women should not be allowed to cross-country more than 10 kilometers, women would incur additional costs because additional changing rooms had to be built, women would not be interested in participating. All nonsense of course. It was not until years later that she was rehabilitated."
The incident causes cracks in the men's bastion, which the Vasaloppet then still is. In 1979, women are allowed to participate in the open competition. On the Monday, Tuesday and Wednesday before the big race, participants can ski their own race, from now on also for women.
Overtaken men
Bestenbreur's mission becomes a success two years after its Swedish predecessors. Number 11,037 begins in the backfield of the long trail of skiers, who plow their way through the snowy landscape. Skier after skier, man after man is overtaken by Bestenbreur. At the finish she passed about 7,000 overtaken men. Then the mustache and hat come off. Surprise everywhere in Mora. She is disqualified and the press wants to know who this woman is, who is attacking the Vasaloppet dressed as a man.
"Together with the Norwegian press, I have continued with an offensive. I have appeared in many Swedish, but especially Norwegian newspapers. Norwegian TV then wanted to follow me during the Birkebeinrennen (a similar cross-country race in Norway, in which women were allowed to participate), but that was too much for me. I wanted to be able to prepare well for that match and declined that offer. In retrospect, a pity, because there are now no moving images of that time."
Addition
It is difficult to determine whether Bestenbreur's performance was the direct reason for allowing women to participate in the Vasaloppet. Fält thinks it is the sum of all sporting and social developments in the 1970s. "This great story could certainly have been the last push. There was an increasing fight for equal rights. The early 1980s was apparently the time for the Vasaloppet. When it was allowed in 1981, 379 women applied.
Bib number 11.037 is located in Tuitjenhorn, in a box with countless starting numbers, which summarizes Bestenbreur's rich sports career. On the bulging prize cabinet is a head model of a mannequin. A red mustache above the mouth of that white model. It is the red mustache of Vasaloppet's last forbidden female. Bestenbreur removes the mustache from the model, puts on some glue and sticks the mustache to her upper lip. Fist up. Battle on! She would do it again if she had to.