No fewer than 63 sports will shine at the World Police and Fire Games this summer. From major (cycling, football) via small (jiu jitsu, squash) to unknown sports (climbing stairs, armwrestling). And there is another category: the sports that originate from the participating professional groups that are represented at the WPFG. The firesquad sport muster fits into this extraordinary category.
That part was recently demonstrated at the Penitentiary Institution Krimpen aan den IJssel. A special demonstration with a goal: special, because Mayor Vroom was one of the participants. And the goal was to test the hose cart made by inmates. The hose cart was designed and manufactured with and by detainees and the labor staff at the Krimpen aan den IJssel metal department. This is part of In-Made, the penitentiary production companies of the Judicial Institutions Service (DJI).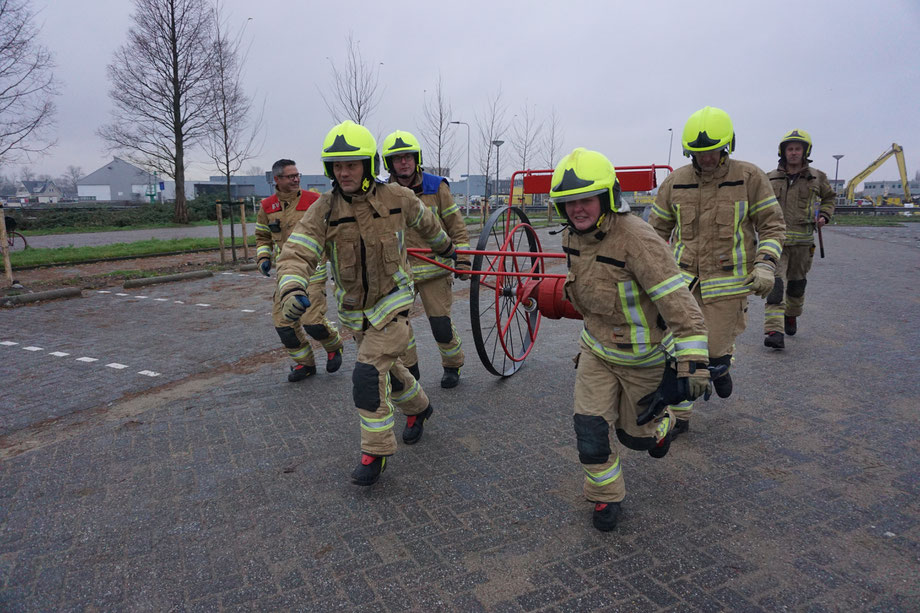 Muster is divided into two parts: hose cart and bucket brigade. The first part was practiced in Krimpen aan den IJssel, a town east of Rotterdam. A team of six firefighters runs 100 meters as quickly as possible with the cart on which the fire hose is rolled up, before unrolling the hose and connecting it. Three team members run 30 meters further, one of them rams a an axe into a woodblock, the other two connect the last piece, the nozzle, to the end of the hose and put out a fire that is crackling 15 meters away. The fastest team wins. It is a short running discipline with firefighting skills that you must perform quickly and accurately to set a fast time. Fit firefighters with an explosive sprint ability are desired at the hose cart.

The used cart was made by inmates of the PI Krimpen aan den IJssel and shines in the rain in the large parking lot in front of the prison. Big, metal wheels on the side, a round, moving rod in the middle and everything in the Dutch fireman's color red. The cart was made under the supervision of the foreman of the facility. They started working with only an image as an example. They were able to determine their own dimensions and materials to be used. It is special that detainees have started working for the police (and other services) and some of them are also proud that they have been able to make something as tangible as a hose cart. The car works the way it should be, drives smoothly and is also used on the WPFG 2022, a second cart is even being prepared.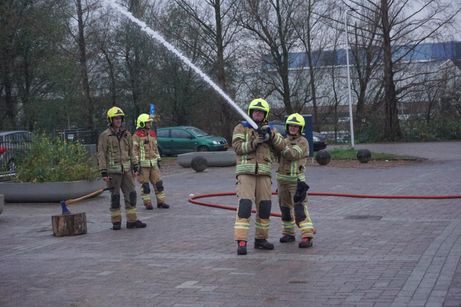 The collaboration between the organization of the World Police and Fire Games 2022 and the institution also makes mayor Vroom of Krimpen aan den IJssel proud. "Certainly, the PI plays an important role in our village. From a social and socio-economic point of view, for example, it is good for employment. It is special that this cart was made here and that we are also involved in the event in this way," says the mayor, who was eager to act as one of the firefighters at the demonstration. "Great to be able to put on an actual firesquad suit and to participate. I really wanted to do this."
Krimpen aan den IJssel is investigating the possibilities of supporting the WPFG 2022 in other ways as well. "The event is alive with our services and it will only increase in the coming months, especially with our fire brigade. For example, we are looking at housing in our barracks, maybe we can open it up. It is a really big event, make no mistake, if I can do something on a voluntary basis myself, I will certainly not fail to do so."