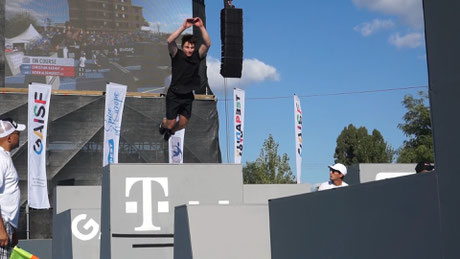 On the site of an old, large, dilapidated building from 1932 in Budapest, a couple of free runners from The Hague will compete for the medals at the very first World Urban Games ever. Under the leadership of headcoach Mark van Swieten, athletes Bo Zuijderwijk and Kevin Alsemgeest hope to achieve great results near the so-called Nagyvásártelep
Free running is officially called parkour and it has two disciplines: speed and freestyle. In the first discipline, it is about who gets to the finish as quickly as possible, on a course full of obstacles. The second is mainly about flexibility, technique and originality. Think of it as modern gymnastics. No large hall, no obligatory greetings to the jury, but tough movements, challenging tricks and an X-sign to greet you.
Indeed: as if you were Spiderman or Superman. Alsemgeest: "We all watch Marvel movies, right? With the superheroes. It kinda feels like that. It gives such a kick that we can fly. Just with our bodies and with help from whatsoever. We fly at top speed over all those obstacles. That's why I wanted a second time… "Alsemgeest took a second chance on the speed part, but his second time was slower and he was eliminated.
According to Mark van Swieten, national coach and owner of the JUMP Academy, the Netherlands is doing well at an international level. "Not only at these kinds of events, but we have a very wide audience that is interested in free running. It's a wonderful feeling to fly and to have complete control over your body. Every free runner likes to push boundaries. "
The sport is trying to gain a spot on the Olympic agenda. "It's special to be here at the World Urban Games, it can be a stepping stone to a possible Olympic Games. Look at break dancing, for example. Free running also has its origins from the street, which is why it's called "urban". Walls, bridges, climbing against everything and going over it. That is the origin. There are also competitions that make use of the natural environment. That's more fun, but more difficult to find and to organize within a big event. That's why free running made some adjustments."