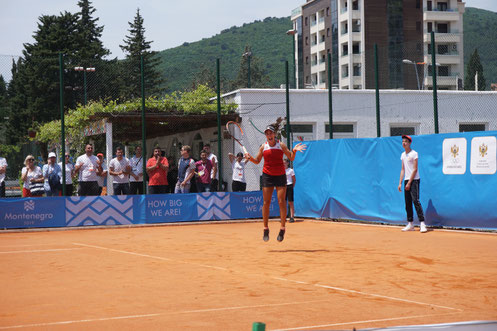 "Mugi, Mugi, Mugi". The support is coming from the fans in the little tennisstadium in Budva. They are friends and fans of Vladica Babic and they encourage their favourite tennisplayer. She answers the yell almost everytime with a big smile. "Mugi is short for Muguruza", she explains. "When she became a well-known player, two of my friends told me I look like her. Although that's not the case at all, to them I am Mugi now."
'Mugi' hasn't played a lot in her homeland. There are a couple of reasons for that. For several years she studied in the United States of America at Oklahoma State University and Montenegro doesn't have a great tennistradition. You won't find lots of tournaments or players in the country. Being a part of the Games of the Small States of Europe in her own country means a lot to her. "It really is a fantastic feeling to play for my friends and family. That never happens. That's why you saw me smile at the court. I loved it!"
But the reason she has a smile on her face has also got a lot do with the fact she turned the final against favourite Eleonora Molinaro from Luxembourg in her advantage. The 23-year old Babic fought her way back into the match more than once. In the second set she survived six matchpoints and then wins the set. After that she gave her fans the reason they'd come to the sunny centre court at a Saturday morning. Babic won the third set: 6-4. She suprised everyone in her own Montenegro and took the gold medal.
"This a big win for me. I don't know how I managed dit, maybe I can recall it in a couple of days." Babic is trying to find dan explanation why she won. "The whole time I was thinking at the stuff I learned in Oklahoma: don't try to impress anyone with perfect tennis, just hit the right balls, make the right points. If I'm doing that, I can win. And that's exactly what happened. My opponent really had some shots, I applauded for her, but I kept coming back".
And while the real Mugi is in Paris chasing her second trophy at Roland Garros, the Montenegrian Mugi is celebrating one of the finest victories in her carreer.